Elsewhere on this site:
Teaching Kids English With Storybooks
Cotton-top Tamarin Publications and Writing
Terwilliger Nature Walks With Kids
How to Win the Weed Battle Forever
Why I Say Charter Does Not Honor Its Contracts
NOTE: Changes have been made in this site to improve navigation. If you have visited previously, please click the Refresh button to implement the changes.
NOTE: Changes have been made in this site to improve navigation. If you have visited previously, please click the Refresh button to implement the changes.
NOTE: Changes have been made in this site to improve navigation. If you have visited previously, please click the Refresh button to implement the changes.
Extraordinary People From Around the World
True Stories for Advanced Students of English, with Discussion Questions and Internet Sources
By Patricia F. Neyman, 2009
The readings presented here are focused around true stories of ordinary people. What makes them extraordinary is what they have been able to accomplish and the way they have overcome obstacles, and sometimes danger, which would have discouraged just about anybody else.

All have affected the lives of thousands or millions of others.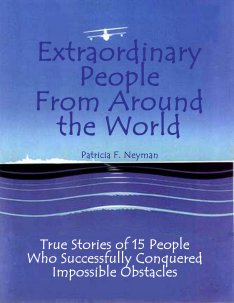 In some cases, the result of their persistence and refusal to quit has inspired others to replicate their work in other regions or countries. All have been honored in various ways, some even receiving the Nobel Peace Prize or a Goldman Environmental Prize.

Their stories are not merely amazing and inspirational. They provide unusually interesting and engaging material for English-learners, because they lead naturally into discussion or writing about issues that concern all of us, whatever our nationality, culture, or social background.

There is a list of questions after each story, and some extra-credit questions in Appendix 1. These are intended to stimulate readers of diverse cultures and nations to express their thoughts on various subjects related to the reading. There are some videos included among the references which could provide listening practice.

Some of the questions also ask a student to do online research, which of course will provide excellent practice in using both scanning and intensive reading skills. Motivating students to make use of the Internet is critical. It offers the possibility of solving problems faster, and sharing the results of what we have done, whether successful or unsuccessful, with people in far-off places.

I originally planned to restrict the vocabulary to the General Service List of the 2000 most frequent words occurring in English texts intended for the general public. (West, 1953; Nation, 1990) These make up 87% of the average written text. However, this turned out to be impossible due to the subject matter.

There are many beautiful books and stories in English available in bookstores in non-English-speaking countries. Their vocabulary employs beautiful and evocative words, but they can be of limited use for teaching English. The reason is that they include many words and idioms that are rarely encountered in commonly read texts (and even less frequently in conversation). These are not necessarily words that most students of English should spend a lot of time memorizing.

Although it was impossible due to the subject matter to eliminate all words that are not frequent in ordinary text and conversation, rare words were eliminated wherever possible in favor of more common ones. This also has the effect of increasing the amount of repetition, thus assisting with internalizing the repeated words. I also excluded extremely complex sentences and verb forms, without artificially over-simplifying the sentence structure.

All selections were submitted to the https://www.lextutor.ca/vp/eng/ (Compleat Lexical Tutor, VocabProfile) for vocabulary analysis, the results of which are presented in Appendix 2. The teacher who wishes to focus the vocabulary-learning efforts of her/his students can submit these (or any) texts to this website and create a list of words sorted according to frequency in English text. There are some suggestions for students about vocabulary learning in Appendix 3.
References Cited:
West, M. 1953 A General Service List of English Words. Longman, London
Nation, I.S.P. 1990 Teaching and Learning Vocabulary. Newbury House, New York.
See also Bauman, J. 1996 Vocabulary Resources for Material Writers. Materials Writers Newsletter, Vol IV, No 3; October 1996. The last has a general discussion of English vocabulary reading lists and can be found online.
Check back for additions!!! This book is not quite finished.
Person

Country of Birth

General Description

Some Possible Classroom Writing/ Discussion Subjects

1

Japan

Risked everything to help thousands of Lithuanians escape through Russia and Japan as the Nazis came closer and closer to invading their country.

Difficult decisions, long journeys, refugees, courage, losing everything, fleeing disaster, Nazis, World War II

2

Bangladesh

Created a banking system allowing poor people to borrow money for starting a small business so they can lift themselves out of poverty.

Borrowing money, small business, poverty around the world

3

US

Pollution fighter who took on Shell Oil Company in Louisiana after they destroyed her community.

Environmental problems, environmental justice, citizen action, fighting a large corporation

4

South Africa

Her heart went out to the many orphans in her neighborhood and their families. She and her neighbors formed an organization to help them and others.

Personal qualities, compassions, orphans, raising money for a project, AIDS, health care

5

Mexico

Made barren land green again; organized farmers to improve agricultural methods.

Reclaiming poor land, country to city migration, sustainable agriculture, green revolution, industrial agriculture

6

Kenya

Organized communities to improve their lives by planting trees and reclaiming the soil and water; worked for democracy and peace .

Benefits of forest, desertification, causes of malnutrition, tree-planting

7

Thailand

Works with families and communities to keep families from sending their girls to a life of prostitution and slavery.

Causes of child prostitution, rights of children, importance of education

8

India

Brings education to children in slums around railroad stations, enabling them to escape the cycle of poverty .

Educating poor children, integrating specially-schooled children, potential political problems for reformers

9

United States

Establishes legal rights systems in emerging democracies, so people don't get forgotten once they are thrown in jail.

Rights of the accused, torture, elements of legal defense, qualities of an organizer

10

Brazil

Passionate advocate for bringing electricity and its benefits to the millions of poor in this world who are still without electricity.

Benefits of electricity, hydroelectric vs solar power, NGOs

11

Germany

A blind woman who is empowering and creating educational opportunities for the blind, starting with a training center in Tibet, a region where people used to hide their blind children.

Abilities of the blind, or others with special needs, Tibet, treatment of blind children, importance of education

12

India

Established "Barefoot Colleges" all over India run and staffed by villagers. At these colleges, illiterate villagers gain expertise they need to bring solar energy and other technology to their communities, so they can "develop themselves."

The place of "experts" in development, villager point of view about development, potential of solar energy, potential political problems for reformers.

13

Pakistan

Forced at age 4 to start making rugs under terrible conditions in order to pay back a family debt, Iqbal managed to escape at age 10. In the 3 years he lived after his rescue, he repeatedly risked his life to help free other children. He also inspired many people, including some 7th-graders in the US who have raised over $350,000 to build schools all over the world.

Courage, child labor, young heroes, what young people are capable of

14

Colombia

She and other Colombian women displaced by internal conflict have built a city for themselves, and have tirelessly fought for over 10 years to get sexual assault as weapon of war recognized as a violation of human rights.

Women's rights, effects of internal war, refugees, hope in a seemingly hopeless situation

15

Searching for suitable person

16

Food for Thought
You Don't Have To Be an Action Hero to Take Action
Appendix 1
Extra-Credit Questions
Appendix 2
Anlysis of Text (Vocabulary)
Appendix 3
Are You In a Hurry to Learn English?
© Patricia F. Neyman, except for the pictures. All rights reserved. Permission is given only for making personal copies, or copies to be used for one class.
Every effort has been made to trace and contact copyright holders of the pictures in this book. However, in some instances this has proved imposible. If notified the author will immediately remove any picture whose copyright holder requests it to be removed, or make other arrangements with the copyright holder.
I welcome feedback about these stories. Compliments and helpful suggestions are especially appreciated. See Contact.
This page last updated on: December 13, 2013